Louise Denson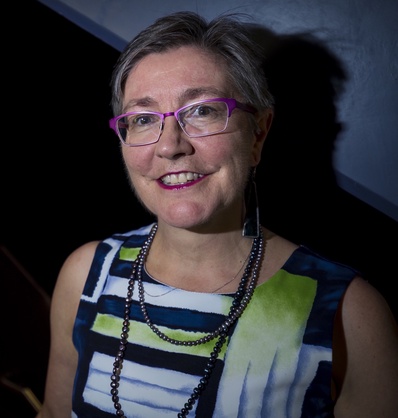 Biography
Louise Denson: Pianist, Composer, Educator
Louise Denson is a pianist, composer/arranger and educator. She holds a Doctorate in Musical Arts from the Queensland Conservatorium (Brisbane) where she is a Senior Lecturer in Jazz Studies. She completed her Masters in Jazz at New England Conservatory (Boston) in the mid-1990s, studying with such luminaries as Paul Bley, George Russell, Bevan Manson and Joe Maneri. She has issued 4 CDs under her own name, two on the Newmarket label and two independently.
Denson's unique approach to music emphasises melody and rich, contemporary jazz harmony. Her extended tenures in Afro-Cuban and Dominican dance orchestras in Montreal during the 1990s influenced her musical tastes, giving a frequent 'Latin' flavour to her compositions.
Denson's CDs contain 30 original compositions and numerous arrangements. Her CD Clean Start won a Queensland Sunnie Award (jazz category), and her composition 'Time to Be' (Denson/James) received the Queensland Music Award for best jazz composition. Several of her compositions have been finalists or highly commended in recent rounds of the Queensland Music Awards, including 'All I Know' (Denson/Hoyt), which was recorded by Bell Award-winning vocalist, Elly Hoyt. 'Lonely Wing' (Denson/James) was published in the first Australian Jazz Real Book, and 'Lost my Heart' (Denson/James) was the title track on a CD recorded by the L.A.-based jazz combo San Gabriel Seven, featuring the internationally renowned Downbeat poll-winning trombonist, Bill Watrous. 'Hear Me' was commissioned by Elly Hoyt for her current project The Composer's Voice, and debuted at the Melbourne International Women's Jazz Festival in 2017. Denson is an Associate Artist with the Australian Music Centre where many of her compositions are catalogued.
Denson has completed commissions for Southern Cross Soloists, the Brisbane International Jazz Festival, Griffith Trio and St. Paul's Anglican School Senior Band. 'Two Boleros', recorded by Muses Trio in 2016, receives frequent ABC airplay. Wild Silk Strings Project, jazz sextet + string trio, has recorded 14 of her compositions and arrangements to be released in April 2018. 'Wild December Wind' was recorded by the Queensland Conservatorium Saxophone Orchestra, and was included in the repertoire for their 2012 European tour. 'Out of My Way' was premiered at the World Saxophone Congress in Strasbourg, July 2015 and recorded later that year. 'Resolve' was premiered by Brisbane chamber groups Trichotomy and Collusion in 2014, while 'Pondside' was recorded by the Barega Saxophone Quartet for a digital album released in June 2015. Three art song cycles were premiered by New-Zealand soprano Sarah Court in 2015 and 2016. These song cycles and 'Two Boleros' have been published by Wirripang. Denson is currently writing big band charts for the Brisbane Contemporary Jazz Orchestra featuring internationally acclaimed jazz vocalist Ingrid James. 
Denson has performed with her own groups at the Wangaratta Jazz Festival, Montreal International Jazz Festival, Melbourne International Women's Jazz Festival, Manly Jazz Festival, Brisbane International Jazz Festival, Valley Jazz Festival, Brisbane Festival (Spiegeltent), and Broadbeach Jazz Festivals, among others. She has collaborated with musicians of national and international renown including saxophonists Sandy Evans, Julien Wilson, John Mackey, Martin Kay, James Sandon, Frank Lozano, Martha Baartz and Adrian Cunningham; trumpeters Miro Bukowsky, Aron Doyle, Bob Schultz and Paul Armstrong; pianist Steve Newcomb; bassists Michel Donato, Mike Milligan, Helen Russell and Andrew Shaw; and drummers Todd Harrison, Paul Hudson, Cameron Reid, Tony Floyd, Ronny Ferella, Fabian Hevia, Gary Fieldman and Paul Leger.
CD Recordings
2010 Louise Denson Group. Flame Tree [CD]. Independent Release.
Highly Commended - "Another Cup", "Sparring, Sparing", "Mercurio", "I'll Ask You
One More Time" – QSong Music Awards
2006 Louise Denson/Ingrid James. Portrait [CD]. Newmarket Music.
Best Song - "Time to Be" - QSong Pinnacles Jazz Award
2002 Louise Denson Group. Clean Start [CD]. Newmarket Music.
Best Jazz CD - Qld Recording Association Sunnie Award
1996 Louise Denson Group. On the Level [CD]. Independent Release.
Other Recordings
2016 Two Boleros [Muses Trio]. On The Spirit and the Maiden [CD] Independent
Release.
2015 Out of My Way! [Queensland Conservatorium Saxophone Orchestra]. On Australian
Made [CD] Independent Release.
2015 Pondside [Barega Saxophone Quartet] On Three Serpents [On-line digital release].
2012 Lost my Heart (Denson/James) [San Gabriel 7] On Lost My Heart [CD]. Los
Angeles: SG7 Music.
2012 Fisherman Islands [Southern Cross Soloists and Ron Haddricks]. On Samuel
Wagan Watson: Smoke Encrypted Whispers [CD]. Melbourne: Melba Recordings.
2012 Wild December Wind [Queensland Conservatorium Saxophone Orchestra]. On
Queensland Conservatorium Saxophone Orchestra [CD] Independent Release.
2010 All I Know (Denson/Hoyt) [Elly Hoyt]. On Elly Hoyt [CD]. Brisbane: Pinnacles Music.
Finalist - Qld Music Award
References
http://www.louisedenson.com/

https://louisedenson.bandcamp.com/