Sean Timms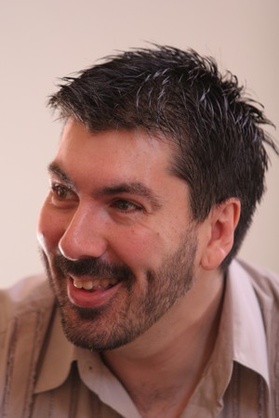 Biography
Sean Timms owns and operates Timms Tunes, one of Australia's most well respected audio/music post production facilities. He is an engineer, composer, arranger & producer with a long line of credits in the film and advertising industry.

Starting piano at 10, Sean realized that a career in the music industry was the only thing for him. Conscientiously studying classical piano with the best teachers in the state, he also developed an interest in keyboards and synthesizers after his father bought him a copy of Rick Wakeman's 'Journey to the Centre of the Earth' LP when he was 14. At 16 he bought his first synthesizer. This was to be the first of many! He joined a band with some of his school mates and proceeded to make an income from doing cabaret work.

By his early 20's, Sean was in demand as a first call session player. Able to play in any style, his classical technique, finely tuned ear and multi keyboard setup enabled him to rise to the top of his chosen field. During this time he gigged up to 6 nights a week and studied jazz at Adelaide College where he met Monty Ruggiero. A chance meeting with a local producer introduced Sean to the wonders of the recording studio. Starting as a first call session player, he quickly became an in-house arranger, composer & programmer.

In 1989, Sean was asked to perform with Ross Wilson to promote his 'Dark Side of the Man' album. This subsequently led to a stint in Mondo Rock, performing their latest release 'Why Fight It' as well as their extremely well loved back catalogue. A highlight was the live televised event, Oz Music 90 at the Sydney Entertainment Centre performing to 19,000 people on the same bill as Crowded House & Kate Ceberano.

Partnering with another post production studio in '95, he spent 4 years developing his skills composing for the advertising industry. During this time he met Mark Trueack.

Not getting enough satisfaction from a joint venture, Sean decided to open his own facility, naming it Timms Tunes. This quickly became the go-to place for top quality advertising and film music. During this time Sean scored the music to 2 feature films. In 1999, Timms Tunes relocated to a character laden former church building. When time would allow, Sean & Mark would write together. Their chemistry and co-operation would culminate in the release of 'More Than a Dream' in 2005.

Sean continues to excel in the field of audio/music post production, and composes for many national and international clients such as Bakers Delight, Mitsubishi, Mazda, BMW, Home Hardware and Wendy's. He also works as a composer for Disney and has scored music for many film projects including 'The Book Keeper' and 'Gargoyle', two highly awarded animated films produced by Anifex.
In April 2007, Sean married the love of his life, Amanda. They are expecting their first child in November 2009. In his not so spare time Sean trains and instructs karate (he is a 2nd dan black belt) and collects comics.
References
http://www.myspace.com/seantimms