Reuben Lewis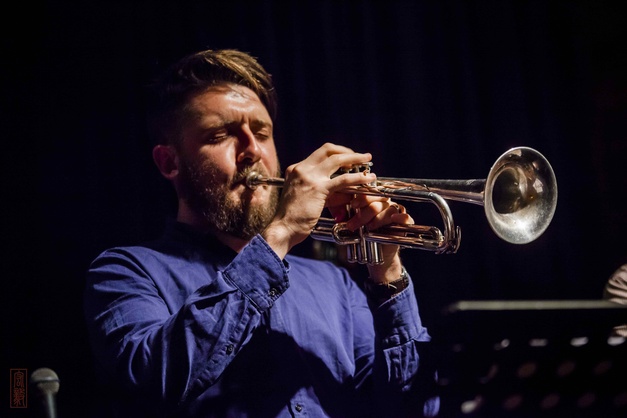 Biography
Squeezed and oddly burbling lip manipulations, sounding strangely fleshy, were punctuated by the mechanics of the valves being operated, and sometimes left far below as a pure trumpet tone rose in unforced but soaring and somewhat operatic arcs. - John Clare
Since basing himself in Melbourne in 2013, Reuben's unique and diverse musical activity has earned him recognition among the local and global scenes. He leads I Hold The Lion's Paw and The Inflorescence Ensemble, both of which explore the in-betweens of groove music(s), free collective improvisation and abstract compositional forms. Reuben is also a co-leader of the international new-music groups The Phonetic Orchestra and SVELIA as well as a member of the trad-jazz band The Grubs, free-improv groups Palaver and Infinite Ape, contemporary-jazz ensemble The Unfix Orchestra (formerly The Bennetts Lane Big Band), cross-medium improv collective THIS Ensemble and nu-soul outfit 30/70.
Reuben has independently released five albums under his own name as well as several others as co-
leader, both in Australia and Europe. He has toured in Australia, Europe and South-East Asia and appeared at prestigious festivals such as Wangaratta Jazz Festival, Melbourne Jazz Festival, Woodford Folk Festival, WOMADelaide, MAP Malaka, Sound Out, You Are Here, Canberra International Music Festival, Sydney Fringe, AsiaTOPA, MAP Melbourne and MONA FOMA.
In 2015 and 2016, he participated in The Australian Art Orchestra's Creative Music Intensives as well as the inaugural MAP Delhi Residency (2015) with the Tony Yap Dance Company. His group I Hold The Lion's Paw was selected for the inaugural Lebowski's Development Residency in 2016.
Various collaborations have received grants for creative development and new works, including:
• AusCo. New Work, 2014 – for the creation of SVELIA's debut studio album, Transitions;
• AusCo. JUMP Mentorship, 2014 – for The Phonetic Orchestra to study with AAO director Peter Knight, Sydney improviser Jim Denley and SPEAK Percussion director Eugene Ughetti;
• New Music Network, 2014 - For the development and performance of an 8-hour durational piece with The Phonetic Orchestra;
• AusCo. New Work, 2015 – for the creation of The Unfix Orchestra's debut studio album;
• AusCo. Early Career Residency, 2015 – for The Phonetic Orchestra to travel to Stavanger in Norway and develop new works with new-music group The Kitchen Orchestra;
• AusCo. Arts Projects, 2016 - for the debut performance of "Waterfalls Plunge Into The Abyss" in Banyuwangi, Indonesia, composed and directed by Bambang N Karim; and
• AusCo. & Creative Victoria, 2016 - for The Phonetic Orchestra to tour and conduct workshops in Portugal in 2017.
As a composer, Reuben's work has been presented in short film, pop/alternative bands and jazz/ new-music ensembles ranging in size from solo to chamber and jazz orchestras. He was commissioned to compose "The Young Music Society Jazz Book: an educational resource for young improvisers," included in The Australian Jazz Real Book and was a finalist in the 2010 Sprogis Woods Jazz (ACT) and 2014 Darebin Music Feast/Orkeztra Glasso Bashalde composition competitions. Recent commissions include "You keep still while storms flatten mountains" – a 30 minute work for the Bennetts Lane Big Band featuring vocalist Georgie Darvidis, new works for
SVELIA's debut album "Transitions" and a 15 minute work for The Unfix Orchestra's debut album, featuring Georgie Darvidis and the Penny String Quartet.
www.reubenlewis.com
reubenlewis.bandcamp.com
soundcloud.com/reubenlewis
References
http://www.reubenlewis.com/

http://reubenlewis.bandcamp.com/

http://soundcloud.com/reubenlewis