Peter Mitchell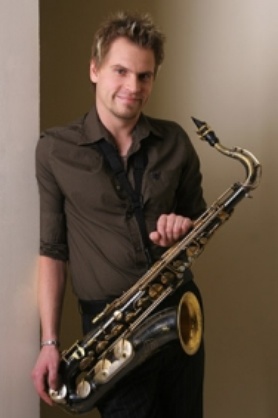 Biography
Born in 1978 in Melbourne, Pete Mitchell began learning piano at the age of six, taking up saxophone and guitar when he was ten. During his school years Pete took every opportunity he could to be involved in music, playing in orchestras, concert bands, soul bands and jazz big bands. The highpoint of this period was soloing on centre stage in big band at the Melbourne Concert Hall on speech night. He also performed on guitar in heavy metal and hard rock bands.
Outside school Pete was actively involved with the Melbourne Youth Music Council attending music camps and performing with the John Antill Youth Band as part of their Saturday Music School program.
Peter completed a diploma in jazz performance in 1997 having passed VCE Music Craft on guitar in 1995. During the diploma course he co-formed Take Four, a sax lead jazz / funk quartet which played over a hundred gigs in a year and was a huge success at the 1997 Merimbula Jazz Festival.
Recently Pete's various duos, trios and quartets have played at many corporate, private and public events around town. He also plays with various other bands on soprano, tenor, alto and baritone saxophones as well as guitar (as required).
Pete has played on a number of occasions with Bomba (Nicky Bomba's funky reggae outfit) and over the last twelve months has occupied the baritone sax chair in the house big band at Dizzy's Jazz Bar on Wednesday nights.
A highlight of Pete's activities was spending time and attending a private lesson with one of his all time jazz heroes, Branford Marsarlis.
References
http://www.myspace.com/petemitchellmusic