David Galea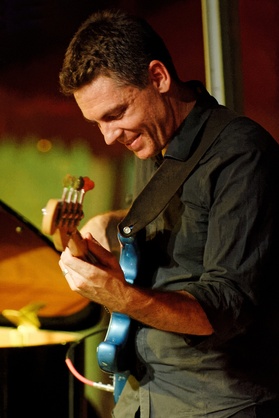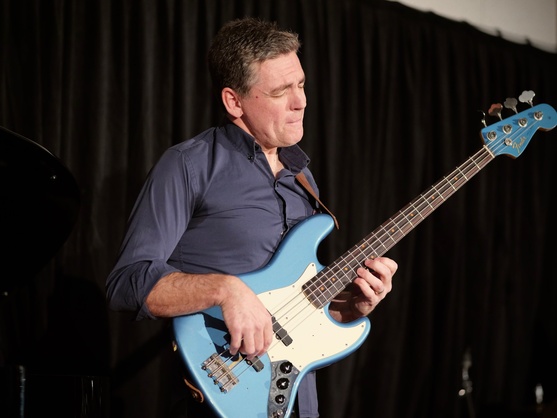 Biography
As a boy David was introduced to the guitar and in particular classical guitar, but it wasn't until he was asked to learn the bass guitar for the school jazz and rock ensemble that he actually fell in love with music. The bass guitar was the link he was looking for between rhythm and harmony.
Over the years David has performed with many Australian artists including master drummers David Jones and Darryn Farrugia as well as vibraphonist James Whiting. David has also had the pleasure of performing with local Brisbane artists, Elly Hoyt, Toby Wren, Dave spicer, Chris Poulsen, Cleon Barraclough, Shannon Marshall, Sophie Min, Kayleigh Pincott and Lachlan Hawkins. However David's real musical love lies at the heart of improvised music. Over time he has been able to carve out a home in the Australian Jazz scene, where he continues to hone his skills as a jazz bassist and composer. David has been composing since 2007 and in 2008 he released his first jazz and funk album entitled "BassBoy." Since then he has released a live performance recorded in the Nickson room at the University of Queensland entitled "Wood and Wire." This was released in 2013.
In 2018 David joined forces with pianist Sophie Min and Percussionist/Drummer Lachlan Hawkins to release their first recording as the Nimble Trio called "From All Sides". "From All Sides" features all original compositions from all members and features special guests Kristin Berardi, Elly Hoyt on vocals and percussionist Tsoof Barros. "From All Sides was featured on the ABC jazz on the "Home Cooked" program and has received wide acclaim as a modern jazz recording in the Australian improvised landscape.
In 2020 David had the privileged or taking his band into the SAE studios in Brisbane to record six original compositions, the session was so successful that he was able to release "Pivotal Moment" a recording that features on guitar Toby Wren, Piano David Spicer and Drummer Lachlan Hawkins.
In 2022 David released his latest recording entitled "In the Blood" which features vocalists Elly Hoyt, Briana Cowlishaw and Simon Watson. "In the Blood" is a departure for David in terms of compositions as it is primarily a vocal recording, it also features Brisbane percussionist Lachlan Hawkins on Hand pan and saxophonist Ben Byrne.
Through out 2022 and 2023 David has had the privilege of performing at various festivals with his quartet playing new compositions written for Melbourne drummer Adam Donaldson, Pianist David Dower and Guitarist David Gooey, they are currently preparing for a new release for the coming year featuring all new original compositions. 
References
https://davidgaleamusic.com/home

https://www.youtube.com/channel/UCDjYMhdPPdmnrwMfQusR2Jw

https://davidgalea.bandcamp.com/album/in-the-blood