Bob Bertles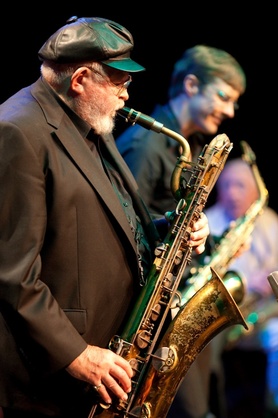 Biography
A self taught musician, Bertles began his performing career in 1956. In the late 1950s and early 60s Bertles was a member of the developing modern jazz scene that grew out of venues like the Mocambo in Newtown and the El Rocco Jazz Cellar in Sydney's Kings Cross.
Active in clubs, on TV, as a session musician and on the pop-rock scene, he toured with Johnny O'Keefe and The Dee Jays between 1958 and 1963. Bertles led a quartet with Keith Barr and Brian Fagen and Barry Woods, which played at Melbourne's equivalent of Sydney's El Rocco, the Fat Black Pussycat in Toorak.
In 1967 Bertles temporarily joined Sydney-based rock-soul band Max Merritt & The Meteors and was soon invited to become a permanent member. Only weeks after joining, Bertles, Merritt and drummer Stewie Speer narrowly escaped death after their van collided head-on with a truck on the way to a country dance; all three were seriously injured and Bertles was left with a permanent limp. During his five-year stint with the Meteors he relocated to London in 1969 and was involved in sessions for Cliff Richard, Cilla Black and Alan Price. In 1974, after the group split, Bertles joined Ian Carr's Nucleus.
In more recent years Bertles has toured Europe extensively, joined the orchestra for the Australian production of the stage musical Chicago, where he met his future wife, and has toured the USA and Australia with the Australian Jazz Orchestra.
In addition to regular concerts, festivals, session work, and touring, Bertles' recent projects include recording and live performances with Sydney's renowned Ten Part Invention (who toured internationally in late 2004), and two new CDs from his own group The Bob Bertles Quintet. His most recent recording with the Quartet, Moonlight Saving Time, is a collaboration with vocalist Toni Lamond. When not touring, Bertles presents a regular program on Sydney jazz station Eastside Radio.